Bathroom Installation
We can handle any bathroom installation to any level of sophistication.
Bathroom Installation and Refurbishment
Whether you want a simple new bathroom installed or the latest, most sophisticated bespoke luxury bathroom, House Extensions Surrey has the experience and knowledge to do the job to the very highest standards. We treat every job with the same level of importance and our unwavering commitment to quality and professionalism will be present in each case, so you can rely on a superb level of finish and the use of top-quality fixtures and fittings.
Our highly skilled, fully trained and experienced team of bathroom technicians can handle any type of bathroom installation. We can start with a blank canvas in a new build and fit the bathroom of your dreams, or replace existing bathrooms with new, more up to date installations using the absolute best and latest fittings and furnishings.
At House Extensions Surrey we're here to help with our bathroom installation expertise so if you have an idea that you want to discuss or simply want advice on bathrooms then get in touch, and one of the team will be happy to answer any questions you may have and arrange for a technician to visit. Our consultation and quote are free of charge, and there's no obligation to use our services.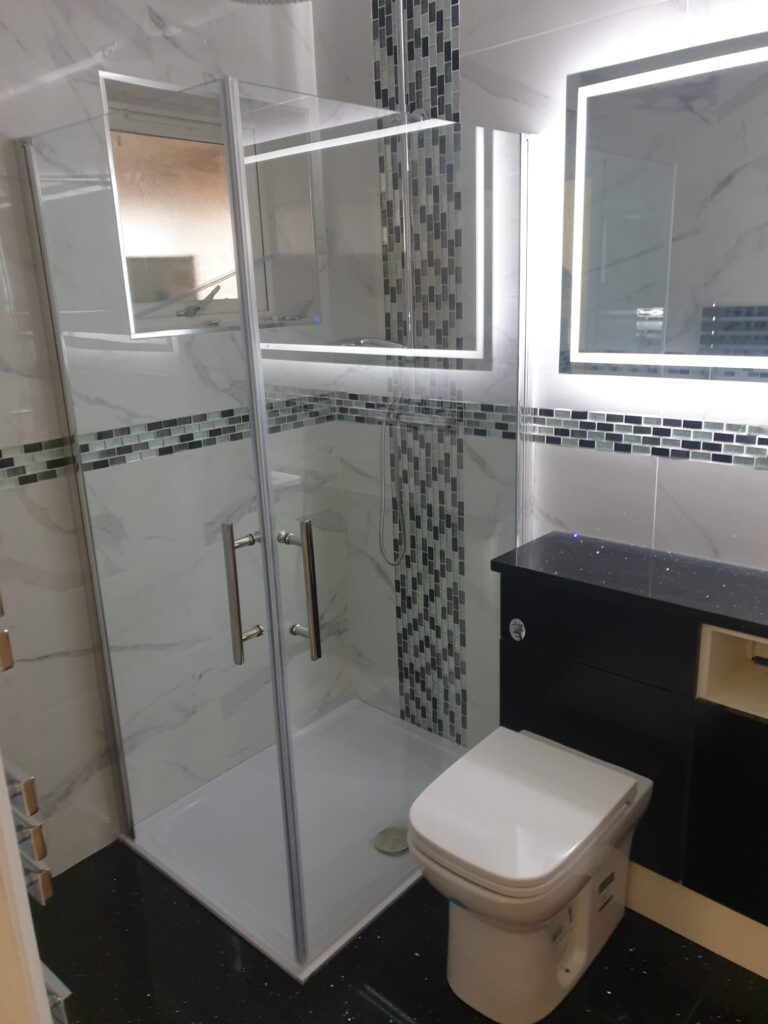 Bathroom Repair
A bathroom is a much-used room in a home or in commercial premises, and over the years wear and tear takes its toll. There are also many areas of a bathroom and plumbing system where faults can occur, or damage can
From repairing broken taps to replacing sink basins, bathtubs or other fittings and furnishings, we can handle it all, and while we're there we'll give your bathroom a full inspection to check for any other faults. If you have a leak we can help, and if we believe that a replacement will be more cost-effective than a repair, we will advise you so – but the choice remains yours.
Our professional approach and commitment to quality means that we will always replace like for like where possible, or will suggest a more up to date and modern item if we believe it will be beneficial. We're here to help, and we will always consult with you – the customer – before we commit to any work.
From broken showers to dripping taps, the team at House Extensions Surrey are here to help you however we can, so if you have a problem in your bathroom, get in touch and we'll send a technician out to assess the problem and provide you with a free, no obligation quote that we are sure you will appreciate.
Quality Materials
.
With 20 years of experience in providing our installation and repair solutions to many very satisfied clients we know the difference that quality materials can make, not only in giving our bathrooms a longer life but also in quality of design and style. From minor fittings such as taps to major items like baths and shower units, you'll only get the best at New Bathroom.
Our extensive experience in the field, and reputation throughout the region in which we provide our services, has led to use having access to the very best in terms of bathroom equipment suppliers, and we also get the advantage of the best prices.
Whether you need a simple and straightforward new or replacement bathroom or a luxurious, bespoke and personalised installation you will never find House Extensions Surrey offering anything other than quality fittings. We are proud of our reputation for providing the best in bathroom solutions and services, and we know that for our customers only the best will do.
If you have a particular style you want to achieve, or have seen the bathroom fittings you want, then get in touch with the team at House Extensions Surrey and we'll be only too happy to source your desired items and go from there.
Talk to us now for all your bathroom requirements, and remember that at House Extensions Surrey no job is too complex or too small – we're here to help you get the bathroom you want at a price that you can afford. For a free, no obligation quote or to arrange a consultation with one of our technicians, give New Bathrooms a call or fill in the online contact form and one of our team will get back to you as soon as possible.